---
Welcome to the Palace of Nero
hi, i'm jaye!
this is my personal website for hosting all of the different creative projects that i've worked on.
you'll find poetry i've written, photos i've taken, zines, pixel art, and some small bits of programming. feel free to explore, and check back at some point if you liked anything. i'm always going to be gradually adding content, as well as doing my best to improve on what's already here.
one large section is the gallery for my Choose Your Own Adventure games (CYOAs). there are a lot of them for you to play, both long and short, as well as some stories and worldbuilding about the different adventures. you might want to check out Pixie Hearts if you're not sure where to start, because it's one of my most personal CYOAs, and shouldn't take too long to read.
and mostly because i'm really broke,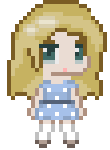 [ This message was last updated: 28th February 2021 ]
---
© Palace of Nero (palaceofnero.com), 2017 - Present.